Day 5 in Costa Rica – Rainforest
Tuesday, August 5, 2014 – Cinco Ceibas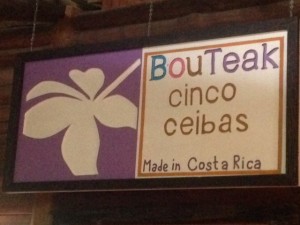 Imagine walking through a rainforest and seeing monkeys, toucans, and the huge Ceibas trees. After driving through the middle of nowhere seeing only pineapple fields, we didn't expect such a beautiful sight, yet this is what we experienced today walking on a boardwalk through a primary rainforest. A primary rainforest is a rainforest that has never been harvested, so it is all old growth.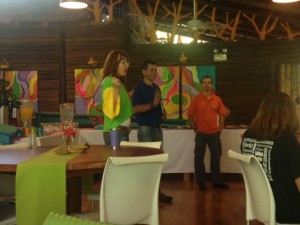 We arrived at a beautiful, large, open building which is the main building on the Cinco Ceibas property. It is run by a lady named Jackie and she's an artist. She has painted and designed all aspects of the property. When we got there, snacks were ready for us. We ate the snacks and then we were on our way to the rainforest boardwalk. After a bumpy bus ride and a short hike, we were walking above the warm, moist tropical rainforest.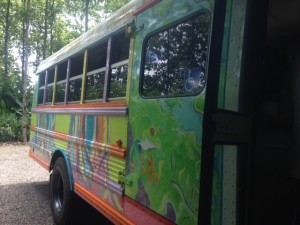 The rainforest was fantastic. We saw monkeys in the trees, and even saw a toucan fly over head. There are five ceiba trees and they look like the trees from Avatar. They are incredibly large and have anchoring roots that keep them steady in the wet soil of the rainforest. We walked around the boardwalk and then returned to the main building for lunch.
Lunch was great. We then divided into two groups and rotated on the ox cart ride. We rode on a large covered cart toted by two oxen. The ride took us to the greenhouse where they propagate tropical plants. We even saw orchids rooting in coconuts.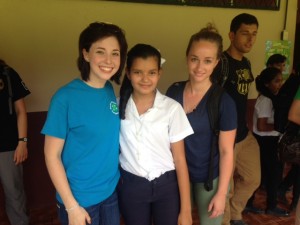 We visited a local school to meet the children and then it was back to the main building for a bit of relaxation and supper. After supper we drove to our hotel. It was a bumpy ride, but we all made it okay to our next hotel.
Sally Dixon, NC 4-H